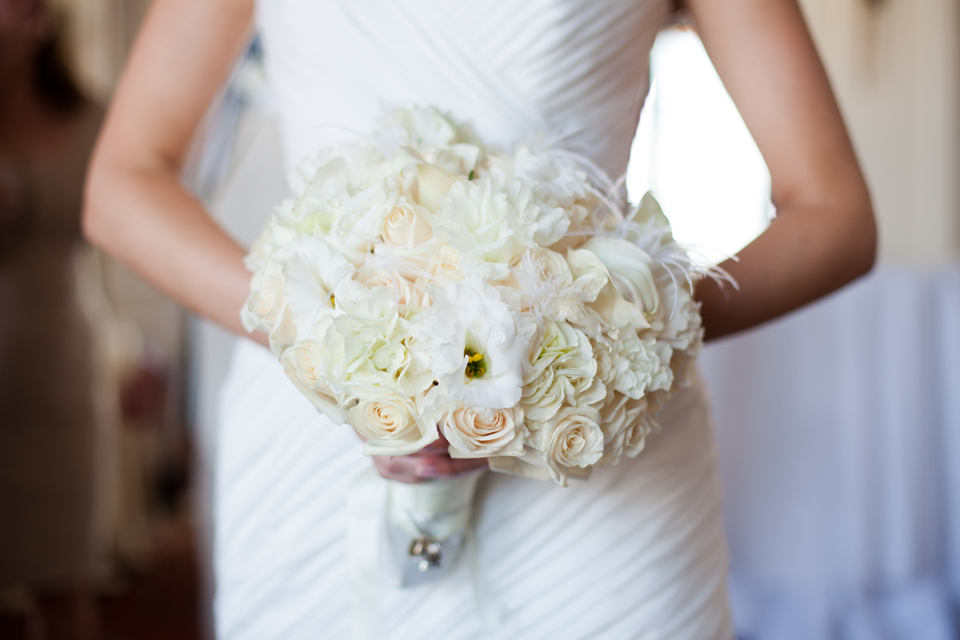 Your big day is drawing closer by the day, and soon you will be marrying the love of your life. You've completed all the major details like finding a venue, booking a wedding photographer, and finding the perfect wedding dress but don't kick back and relax yet! There are still loose ends to be tied up and memories to be made the week before your wedding.
The Bride's Final Fitting
It is essential to fit a final dress fitting into your pre-wedding week. The final fitting will ensure that the bride's dress fits like a glove on the day of the ceremony. It is important to add that the week before the wedding is not the week to go on strict diets or cleanses. While you may be tempted to try to lose just a few more pounds, the week before your wedding is not the time to do so. Your attempt may backfire on you and cause an ill-fitting gown on the day of your wedding. You want your measurements to remain consistent with what was at your final fitting, so your dress will give you the look you want.
Break in Your Dancing Shoes!
The week before the wedding is an ideal time to start breaking in the shoes you'll be wearing at your wedding and reception. For at least 30 minutes each night, walk around the house in your wedding shoes. For brides, it will not only assist in breaking in the new leather, but it will help her get used to walking in her shoes.
Finalize All Day-Of Appointments
While some salons may call you to confirm, it is in your best interest to call a week ahead of your appointment date to verify your beauty appointments. If you have booked for your bridesmaids, go ahead and confirm their appointments, as well. For grooms, now is the time to get a haircut to make sure that you look sharp and cleaned-up for your bride. However, now is not the time to make a drastic change in style.
Schedule a Practice Up-Do
If you are choosing a salon to do your wedding day hair, most will let you come in a week or so before and style your hair how you plan to style it the day of your event. This appointment will let you see if the style suits you and gives the stylist time to make suggestions if the chosen style does not work. Imagine the stress that would come with turning around at the end of your hair appointment the day of your wedding and realizing that you hate the hairstyle that you chose. Coming in a week before gives you an excuse to be pampered and one less thing to worry about on the day of the wedding.
Follow-Up on RSVP's
While you send out every invitation with the hopes of receiving an RSVP, people get busy in their lives and sometimes forget to respond. Now would be an acceptable time to gather a list of those you haven't heard from yet and begin making phone calls to see if they will be able to attend your event.
Don't Diet Too Hard
But don't overeat either! Getting preparations ready for your big event, getting nervous, or just trying to shed those last five pounds can sometimes motivate you to cut back on calories or forget to eat altogether. Some couples will go the opposite route, however, and throw their diets out the window. Remember, don't diet too hard but don't overeat either! One week away from your wedding is not the time to be neglecting your health. You want to look healthy and happy for your big day, so it's critical to maintain a healthy diet even during that last week.
Finalize Vendor Details
Check-up on the vendors you will be using to make sure everyone is aware of your wedding day timeline. Now is the time to clarify any questions or expectations of the vendor, or you may have for their part in your event. Double-check elements such as menus, seating charts, song lists, and other little details that will make your wedding and reception precisely what you have dreamed of.
Party!
It is traditional for the bride and groom to have one last hurrah with their friends before their big day. Some couples choose to have theirs separately, while some prefer to share the night and have a combined bachelor/bachelorette party. Whatever way you want, it might be wise to have the party the weekend before the wedding, instead of the night before. If you end up having a little too much fun, you won't have to worry about walking down the aisle hungover.
The Rehearsal Dinner
The rehearsal dinner enables everyone to know what is expected of them to help your day run smoother and to smooth out any kinks that may arise. Traditionally, a dinner is involved for the participants following the practice. The rehearsal dinner allows for a more intimate setting for the celebration of the wedding of the bride and groom with those that are the closest to them.
Start Packing!
If you plan on embarking on a romantic honeymoon with your sweetheart, make sure you are packed and ready to go before your wedding day. If you are traveling abroad, make sure all passports and personal identification are readily available. Don't forget the essentials such as swimwear, comfortable shoes and clothes, and personal hygiene items that you will need while traveling. Have your bags packed and ready to go at least the night before your wedding.
Most importantly, use your last week to wrap up any details and try not to make any huge last-minute changes or decisions. Now is not the time to change the entire reception layout or to re-design your menu. Trust the planning you have done so far and remember to take time out to relax and remember that you will soon enough be married to the love of your life.
Make sure nothing from your wedding day is lost by hiring an amazing photographer! You won't regret having those memories captured and kept for years to come. Check out our portfolio and let us know if you're interested in us helping you keep those memories safe and sound!