Wedding Reception Ideas from NYC Wedding Photographers
Getting ready for a wedding is a big ball of feelings! You want to make sure that your special day is perfect and you've probably had an idea in your head of how you want it to look for quite some time. Don't sacrifice your vision of a perfect wedding by being worried about buying items that you will only use for one day and then store, or worse, throw away. Here are some items that you can use for your wedding reception that can be repurposed into your home for your future.
Vases and candle holders
Big beautiful bouquets of flowers and candles are staples of most weddings. Make sure that the style of the vases and candle holders used match with your home's style as well. For example, metallic urns may look chic in a wedding reception, but do they fit with your home aesthetic? When you have vases that you like, you can use them in your decor at home and give them away as gifts as well.
Flowers
While fresh flowers have an aroma that change the entire mood of the wedding, paper and even plastic flowers can be just as perfect and can be used in crafts and decorations at your home after the ceremony as well.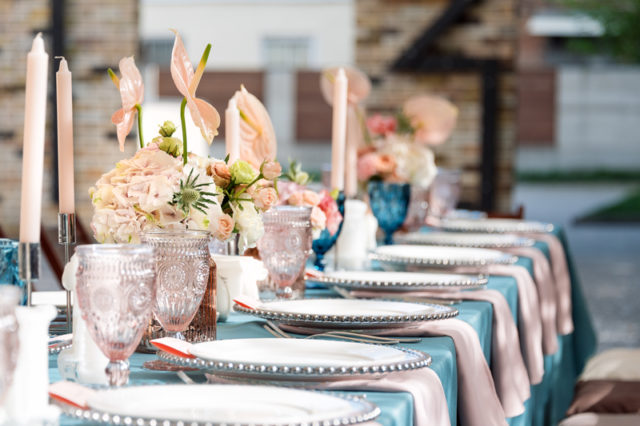 Just know that cheap dollar-store artificial flowers are not going to age as well as more detailed pieces, such as those by Nearly Natural. Pro-tip: Go big and bold with a few flowers and then have several smaller accent type of flowers that will be able to be incorporated in to any design.
Decorative doors
Nothing symbolizes a new beginning like a door. Whether used as a backdrop for your altar or as part of a theme ("Love is an Open Door," anyone?), doors are a useful kind of reception decor that can easily be repurposed for your future home. And they can go with just about any aesthetic, from rustic barn doors to elegant French panels. Taking a picture in front of the same door/doors every year would make a memorable and fun addition to your photo album.
China/silver/glassware
While it may be completely fine to rent or borrow dishes and glasses for your wedding reception, why not buy a perfect set for the wedding party to use and then take them home afterwards? Invite your bridesmaids over for a girl's night and break out the same stemware from your wedding reception!
Don't start your marriage out with a bunch of stuff left over from your wedding that you will never use again. Who needs that burden? Instead, repurpose items from your reception and work them in to your home decor. You'll save money and have little reminders of your big day around you all the time.
The most important way to preserve the memories from your wedding is with quality wedding photography and videography. Talk to us today about how we can make the perfect photos and video to capture your perfect day.